By Thilo Jakob on 18. November 2014 in
Allgemein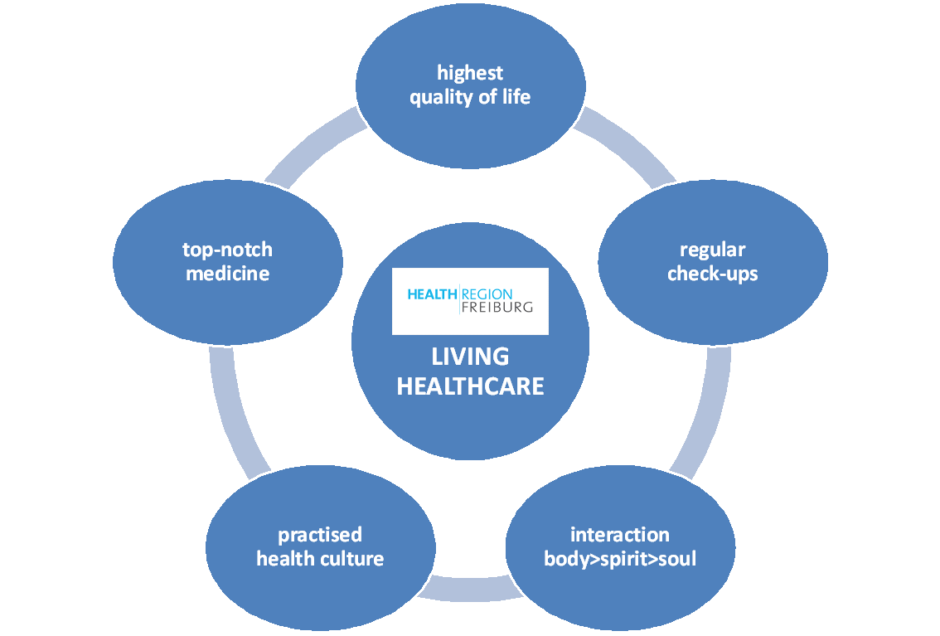 HealthRegion Freiburg / Black Forest offers a unique approach for a heart healthy life style, aiming at maintaining and regaining personal quality of life.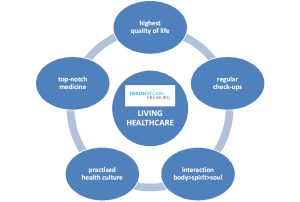 During developing HealthRegion Freiburg it became clear, that a greater personal responsibility from the patient are increasingly replacing the approaches of the past, reminiscent of 'repair medicine'. By diagnosing risk factors early, targeted preventive measures can today be initiated before a disease occurs. If the disease has already begun, long-term effects can often be prevented through targeted treatment supplemented by constant monitoring.
In cardiovascular disease in particular, lifestyle has a significant impact on an individual's risk of disease. There is hardly any other field in which prevention and education have such a huge impact on health. In order to prevent cardiovascular disease, it is therefore important not only to undergo regular check-ups and to see a doctor if symptoms occur but also to Start Living Healthcare by directly influencing some of the causative factors for cardiovascular disease (such as overweight, high blood pressure, high cholesterol, smoking and excessive alcohol consumption, stress or lack of physical activity). As you all know: When these factors can be improved, the risk of deposits in the blood vessels and a complete blockage as an ultimate consequence decrease. A narrowing of the blood vessels or destruction of the vessel walls can be stopped !
HealthRegion Freiburg offers complementary research of sources for health, well-being and vitality, as well as treating the causes of the illness. Thanks to a unique combination of excellent top-class medicine with Europe´s leading University Heart Center Freiburg-Bad Krozingen, a culture of health which is lived out every day, and the highest quality of life, nowhere else in Germany people are getting older than in the south-western part of the country. Inspired by cardiologist Professor Helmut Gohlke, Past-Chairman of the mentioned Heart Center, board member of the German Heart Association and responsible for Prevention at the European Society of Cardiology, the HealthRegion Freiburg program is also focused on significant life style changes. "Living healthcare" with exercise and proper diet has shown that atherosclerosis as the basic element of cardiovascular disease and death is a dynamic process that can be effectively reduced. With the plaque reduction life expectancy will increase accordingly. Intracoronary echo investigations show, that the atherosclerotic plaque may shrink and it may even disappear. Patients willing to change their life style need to be trained in their new, active life with exercise and appropriate diet for the long term.
In our HealthRegion patients are seen as a complete personality with a direct interaction of body, spirit and soul. Integrative-holistic medicine in HealthRegion Freiburg includes natural medicine, psychosomatics and psychotherapy, as well as integrating mental and social aspects of medicine. It is the link between acute and preventive medicine and a new understanding of health and illness. Promoting personal responsibility and self-help play a crucial role, as well as teaching patients how to behave in a generally health-conscious way and imparting knowledge on the causes and effects of the relevant illness. This also includes salutogenesis (= the science of health maintenance) and activating self-healing powers. Health education, information, advice and self-help to change individual (risk) behaviour. The aim of individual health promotion is to control, reduce or eliminate health risks in the person's environment and living conditions. Through professional health management, severe illness often can be avoided, allowing an active and self-determined life. Health protection measures include determining the health risk factors, compiling a concept for maintaining and promoting health, and teaching systematic training methods and therapeutic approaches, with the aim of recording the current health and fitness situation. Promoting health, quality of life, vitality and performance is just as important a part of holistic medicine as diagnosis and treatment are of pathogenesis. We believe that holistic medicine is the medicine of the future!
"Health is not so much a condition as an attitude, and this thrives when one enjoys living." Dominican friar and priest Thomas Aquinas, 1225 – 1274.
A state of complete physical, mental and social well-being is achievable. Excursions within the tri-border region and the picturesque landscape of the Black Forest can support patients in developing a self competence for quality of life as a catalyst for a heart-healthy lifestyle as well as biochemical responses and an increase of certain immune cells and hormones or endogenous morphines which act, as you all know, like the body's own painkillers.
Not everything about living healthcare can be proved by studies. But there a more and more scientific proves for the relevance of controlling risk factors. Just before Christmas last year a study published in "The Lancet" with 9306 participants from 40 countries with an increased risk for cardiovascular diseases showed, that those who walked 2000 steps per day, had a lower ten percent risk of having a heart attack or stroke to get or die from it. Relaxing in exclusive thermal baths or enjoying the widest range of quality restaurants in Germany. Studies of Ramon Estruch from the university of Barcelona have shown that quality nutrition with mediteranne (oil and nut-rich) ingredients reduces the risk of cardiovascular disease by 30 percent. Discover the variety and the particular attractions of the Black Forest way of life and take advantage of services for optimising health behaviour (stress management, dietary advice) and systematic training methods for maintaining and promoting individual health (work-life balance).
Let me also mention professional rehabilitation. It often plays a crucial role in the therapeutic process and, in many cases, can significantly increase the chance of living longer. 'Repair' is followed by sustainable recovery and slowly getting used to everyday life again. The rehabilitation clinics in HealthRegion Freiburg, which have developed from the health spa area, can look back at a long history of success and are today institutions of certified quality which come into play once a patient's acute treatment is over. The aim of rehabilitation is to continuously increase the patient's capabilities, to restore his trust in his own body and to adapt his style of living to his particular disease. Based on a thorough cardiological examination, an individual therapy plan is therefore compiled in rehabilitation, defining the goals and the appropriate therapeutic measures. Rehabilitation thus makes an often crucial contribution to preventing complications or halting the progress of underlying heart disease.
The close interlinking of all levels of care, from outpatients to acute medicine and finally rehabilitation is supported by e-health solutions. This allows the doctors treating a patient to take account of all test results when making decisions and thus prevent unnecessary duplicate tests. The latest tele-medical services ensure that individual care can be provided actively regardless of where the patient lives, as part of a therapeutic partnership.
Bringing together excellent top-notch medicine, practised health culture and highest quality of life in a magnificent landscape have made it possible for healthcare, research and teaching to help patients in developing self competence for living healthcare. In HealthRegion Freiburg we have analysed, that regaining quality of life not only reduces the known risk factors, but also strengthens the compliance for a heart healthy life style. Above all: No smoking (36 % relevance for a heart attack / Lancet 2004 Inter-Heart-Studie), less stress (33 %), less overweight/obesity (20 %), less blood pressure/ hypertension: (18 %)
Furthermore quality of life and health in physical and psychosocial sense is becoming the central engine of growth in a networking knowledge society. The supposed cost factor health thus becomes a factor of production with a significant contribution to the competitiveness of national economies. We would be happy to welcome you in the "Capital of the Black Forest". Start Living Healthcare ! Thank you for you kind attention.